"You gave me a second chance at life," wrote on a letter of thanks by an esophageal cancer patient called Uncle Zhong (nickname) who underwent treatment in Guangzhou Fuda Cancer Hospital. The letter is filled with his gratitude between the lines. Then let's begin the story of this patient.
Twists and turns
At the end of February this year, Uncle Zhong from Jiangxi found difficult in swallowing food suddenly but he didn't pay much attention on it. Later his condition was getting worse – he coughed heavily and couldn't swallow. When China was stuck by COVID-19, he just stayed at home and tried to take some medicine. Then on May 19, Uncle Zhong received gastroscopy at a local hospital, which indicated esophageal cancer. "When I heard of cancer, I was absolutely astounded and helpless." His wife told us that they went to another hospital in Guangzhou for a chest CT plain scan the same day. The report shows the cancer in the middle part of esophagus invades right pulmonary hilus, and multiple small nodules in the lower lobe of right lung. "The doctor there said that half of my lung was destroyed." Sad as they were, they followed the guidance from the doctor and went to the other hospital for PET/CT scan which indicated a bad result.
Uncle Zhong's wife didn't give up but tried to look for information of cancer hospital and then she found some reports on Guangzhou Fuda Cancer Hospital (Fuda). After online consultation about anti-cancer treatment in Fuda, they rushed to Fuda without hesitation. "No matter the result would be but we would like to try cancer hospital for specialized treatment. We won't give up hope," said she.
"Don't worry. You still have chance."
On May 22, Uncle Zhong was admitted to our hospital. In esophagoscopy, a neoplasm was found 28cm-33cm away from incisor; the posterior wall was especially severe with uneven congestion, edema and erosion. The expert team of Prof. Niu Lizhi, Prof. Zeng Zongyuan, Hu Yong, Li Zhonghai and Qian Wei participated in this case and concluded that Uncle Zhong was diagnosed with highly differentiated squamous cell carcinoma in lower part of chest with supraclavicular lymph node metastasis. Without surgical sign shown, Uncle Zhong was advised to undergo medical anti-tumor treatment. Then he underwent two cycles of interventional chemotherapy for esophageal cancer. "After admission, doctors here told me not to worry. The cancer can be controlled, which made us feel happy all night. Maybe you can't experience the happiness that we had. For us, it's a second chance at life," his wife said excitedly. She added that Uncle Zhong's lung was good, which was good news to them. After interventional chemotherapy, Uncle Zhong's condition has been improved and his appetite has recovered.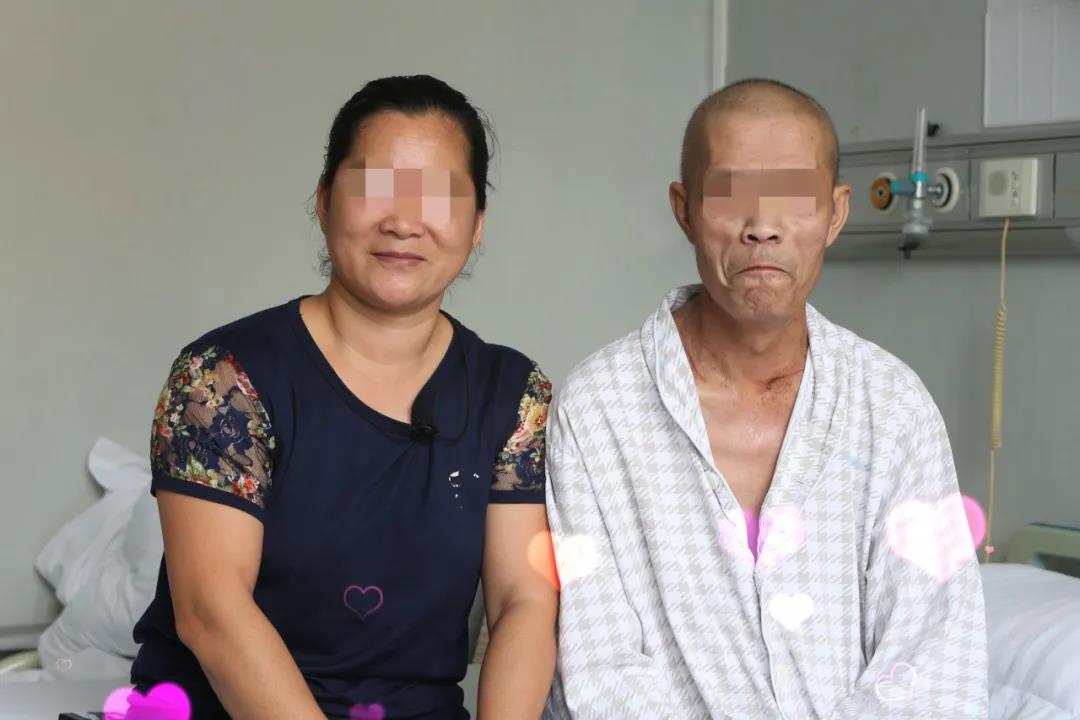 According to his condition, Prof. Niu Lizhi and Prof. Zeng Zongyuan performed a 9-hour radical operation of esophageal cancer through right side of thoracotomy and three-field lymphadenectomy on Uncle Zhong on July 8. "I remembered that I waited outside of the operation room from 8am to 5pm. I felt like I had gone through four seasons within these 9 hours. Time goes slowly. Luckily the operation succeeded in the end," his wife's eyes filled with tears of joy when recalling the operation.
Touched and grateful
"We would like to express our gratitude to them. This letter just carries a small part of our gratitude. Good and effective treatment, good service and nice attitude of medical staff here gave us confidence to fight against cancer." They added that they had experienced twists and turns in this period time. In Fuda, doctors and nurses took their responsibility to take care of him, which gave a second chance to Uncle Zhong. "Doctors and nurses here are really nice." Uncle Zhong and his wife felt the warmth when they received great care during admission. For example, the nurses here asked if he would feel pain or any other discomfort every time they changed dressing for him.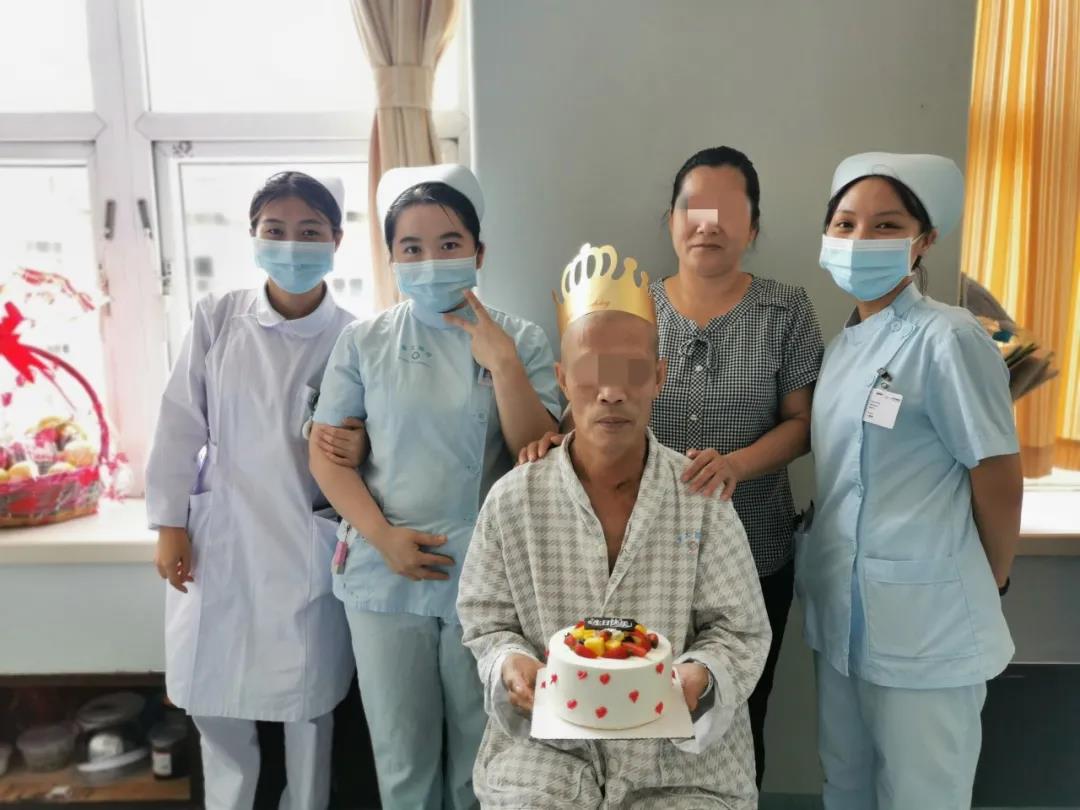 Nurses are celebrating Uncle Zhong's birthday.
To Uncle Zhong's surprise, nurses here celebrated his birthday with him. "At that moment, I feel like my family is here with me. I'm really happy."
Fuda BEU service pattern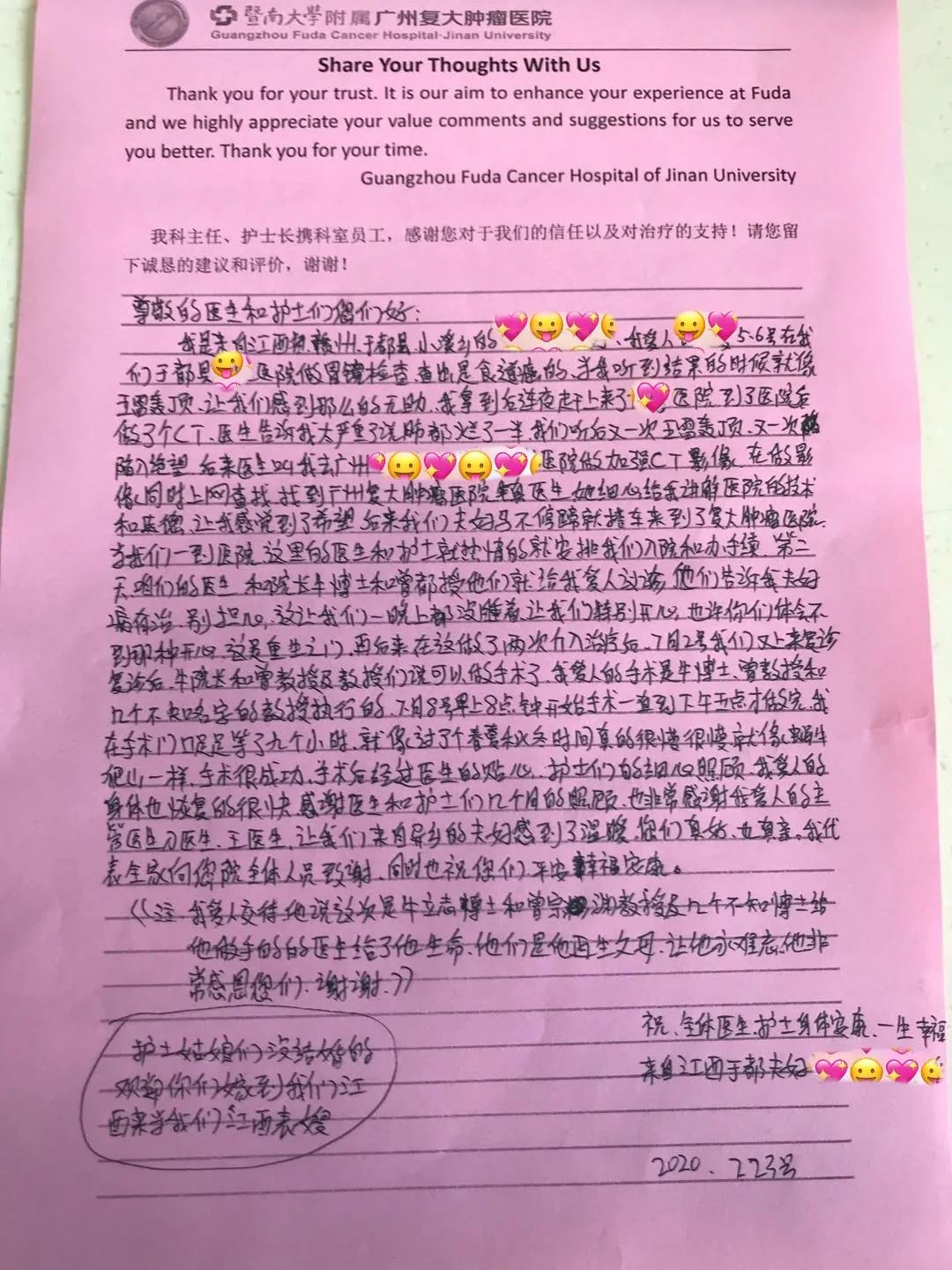 Thank-you note
In the letter, Uncle Zhong showed his recognition and high evaluation of medical staff in our hospital. Fuda adheres to individualized application and precise treatment. When patients are admitted to our hospital, we will carry out individualized analysis and multidisciplinary consultation for them. We have different treatment plans for different patients, and we have different treatment methods for the same patient in different treatment stages. Sticking to the BEU (Basic, Expected, Unexpected) service pattern, we provide heartfelt service for patients before, during and after admission, so that they can feel at home.