Preface:
As known to all, lung cancer is the most common cancer in men and women, ranking the first in the cause of death. It doesn't have special symptoms in the early period but shares the same symptoms as other diseases of respiratory system, such as cough, expectoration and sputum with blood, etc. In clinical practice, 70%-80% of lung patients are in late stage when they see a doctor. Neuroendocrine carcinoma of lung is one of the most common neuroendocrine carcinomas and a unique subgroup of lung tumor, originating from prosogaster and accounting for 25% of neuroendocrine carcinomas. The incidence of neuroendocrine carcinoma of lung is 1.35/100,000 and it increases rapidly in recent years. Recently an Indian patient with neuroendocrine carcinoma of left lung is admitted to Fuda Cancer Hospital (Fuda).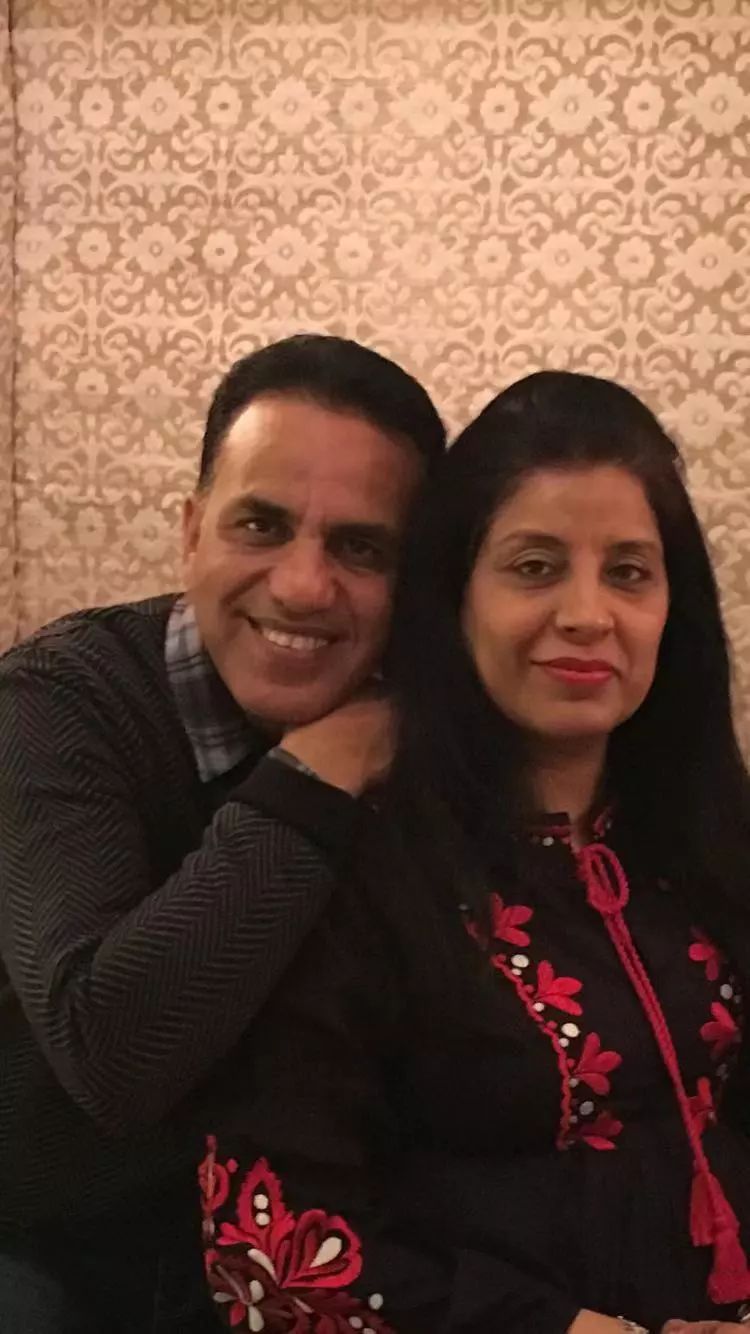 Azzari and his wife
Azzari (pseudonym) is our interviewee today. He is a patient from New Delhi, India, suffering from a neuroendocrine tumor in his left lung with secondary malignant tumor in liver, secondary malignant tumor in lymph nodes, secondary malignant tumor in left adrenal gland and secondary malignant tumor in bone.
Nowadays in India, air pollution sparks a heated debate, and he may give us a different answer on this issue.
Hello, Azzari. Could you please briefly introduce yourself?
My name is Azzari. I'm from India, exactly New Delhi. I'm a businessman. This year I'm 55 years old. I have one son and one daughter. My elder daughter will soon graduate and work. My younger son is working in family business. I have a happy family.
Azzari, do you have any hobbies?
I like playing table tennis and badminton very much. Maybe because my father had joined the army and I inherited his physical ability, I'm good at all kinds of sports. When I was a student, I often took part in sports activities and gradually fell in love with table tennis at that time. But as I get older, my hobbies change, and now I'm so busy with my career that I don't have much time on my hobbies. But when I have free time, I still go to movies or photo exhibitions, go fishing or take a short trip with my family or friends. I like traveling very much. I'm still passionate about my life even though my health condition is uncertain.
We have heard about air pollution in New Delhi in recent days. Did you know that?
Before the spreading of air pollution in India, I came here with my wife for reexamination. I have been paying close attention to the latest news in India. My family is in India so I'm worried about them. Air pollution is usually seen in November and December each year, but it had greater influence this time. I think our government had already figured out countermeasures on this issue and air pollution will soon be under control.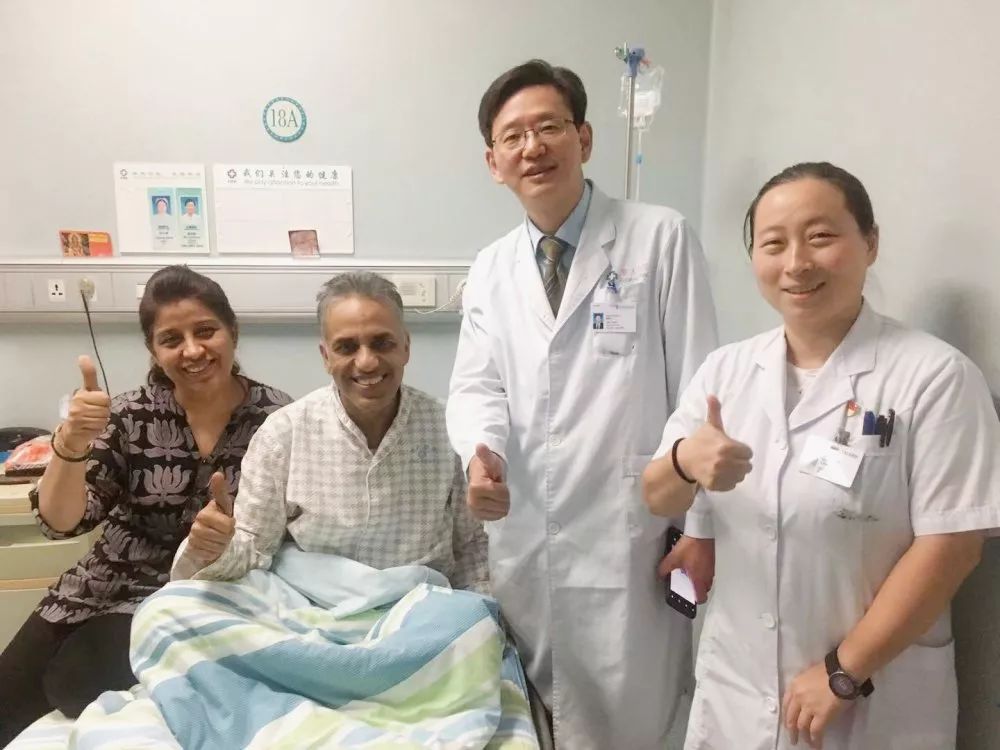 Photo of Azzari and doctors at Fuda
How did you find that you had cancer? Any discomfort at that time?
In March 2018, I went to the park and played badminton. Then I felt pain in my right side and the pain lasted for a while. I went to doctor and went for CT scan. In CT scan, they found that there are some tumors inside, in my lung and stomach. They get my biopsy done. Then I was diagnosed with stage III cancer.
When you were diagnosed with stage III cancer, how did you and your family react to it?
When I first heard there were tumors inside, I was shocked, because I used to go in the morning to play badminton. I can't believe that a healthy person like me can also have cancer. I pay much attention to my diet and exercise. I don't know what's wrong. After detailed examinations, I found there were some problems in my body. My family supported me. My parents, wife and children, they are all with me in my difficult time.
What kind of treatment did you have in the local hospital after diagnosis?
From March to April, 2018, I had 3 cycles of chemotherapy of etoposide and cis-platinum, but the tumors didn't change. Then doctors tried a new way. From September 2018 to April 2019, I had been having oral chemotherapeutic drug, but it didn't get a good result. Therefore, I stopped chemotherapy to find another way of treatment.
How did you know about Fuda?
I was upset at that time. A friend of mine told me his friend had treatment before at Fuda, over here. Then I contacted him and learned about the information of Fuda. I also searched on the Internet for more information. After gathering all the information I needed, I decided to come here in August 2019. I had cryosurgery. This time I came here for check-up and the 4th cycle of interventional chemotherapy.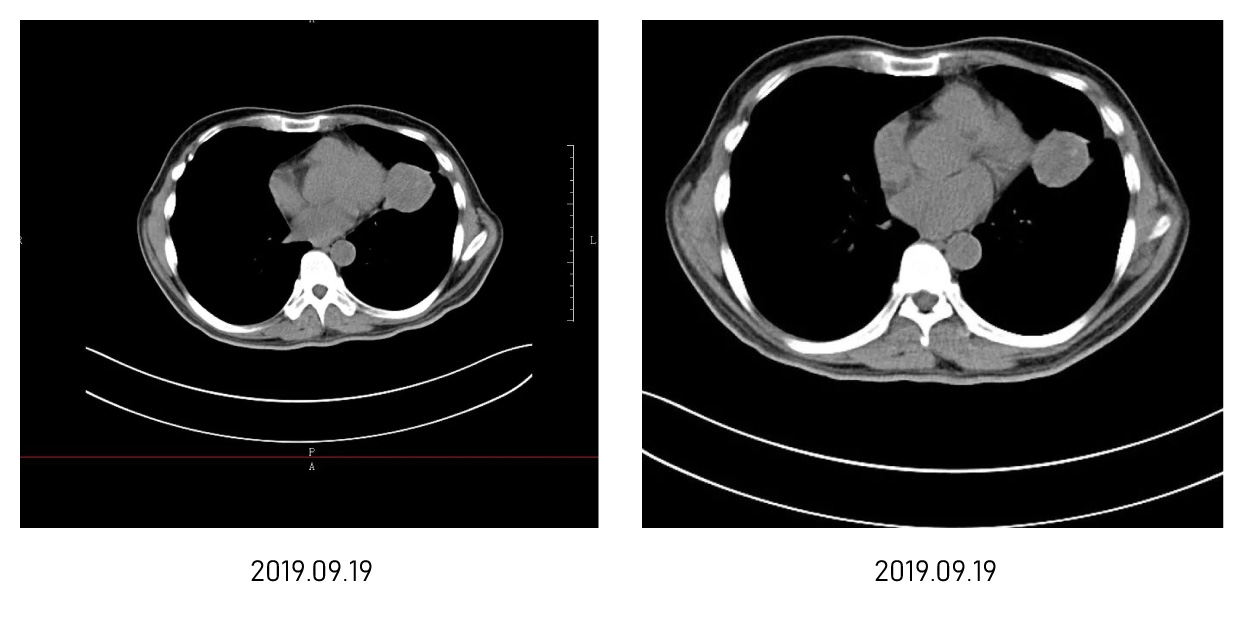 On August 22, 2019, Azzari underwent cryosurgery in neuroendocrine carcinoma of left lung; on August 29, 2019, he underwent interventional chemotherapy in the neuroendocrine carcinoma of left lung; on September 20, 2019, he underwent biopsy of liver metastasis; on September 21, 2019, he underwent interventional chemotherapy in the neuroendocrine carcinoma of left lung and liver metastasis; on October 11, 2019, he underwent the 3rd cycle of chemotherapy.
You said that this was the 4th time you came here. Compared with previous treatment you had before, how do you feel now?
Before coming to Fuda, I couldn't even walk ten steps in the past, and now I can walk normally without pain. I am very happy that I can go with my wife to the nearby market and supermarket, and go for a walk with my wife in the nearby park to get fresh air. All these changes owe to medical staff here at Fuda. Without them, I may still be lying on the bed. I really thank them for patiently answering our questions. I feel very warm here and thank them for their help.
During over one year of fighting against cancer, how did you deal with cancer?
In the past, I thought cancer was scary, and I was shocked when I first heard that I had tumors inside. I used to do morning exercise and play table tennis. Since I was diagnosed with cancer, I find that cancer is not as scary as it once was. Now that things happen, we have to think positively and fight. No matter what the result is, as long as there is hope, we must fight!
"Though we can't choose a disease, we can choose an attitude towards the disease. Though there is a long road to fighting against cancer, we can choose the way to face the disease. Modern medicine is constantly progressing so cancer is no longer incurable. Through the corresponding treatment, some patients can live with cancer for a lifetime and can still live like healthy people, as long as they keep reexamination on time and adhere to the treatment of strengthening the body resistance!"
The stronger and the more positive you are, the greater hope you have! Optimism is the best medicine, indeed!