Duodenal ampullary adenocarcinoma is a rare cancer which accounts for about 0.5% of malignant tumors in gastrointestinal tract. Due to its unknown origin, low incidence rate and complicated anatomical structure, it is always a difficulty in clinical and pathological studies, together with its great difference in biological characteristics and survival rate.
They treated me like their family and provided considerate treatment for me!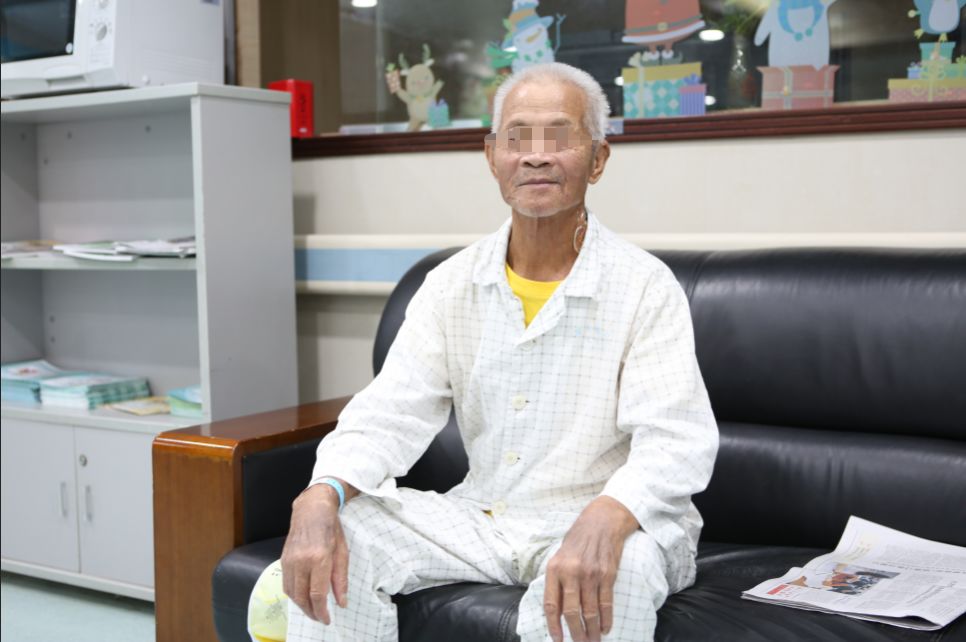 On September 25, 2019, a 79-year-old patient, Mr. Gong came to Fuda Cancer Hospital (Fuda) from Jiangxi province because of abdominal pain. According to his abdominal CT scan at a local hospital on September 19, 2019, it showed that the wall of gastric antrum was thickened, common bile duct and main pancreatic duct were slightly dilated, and lower segment obstruction was suspected. A local doctor had done percutaneous transhepatic gallbladder drainage for him. After detailed examination, Mr. Gong was diagnosed with duodenal ampullary adenocarcinoma and upper digestive tract obstruction.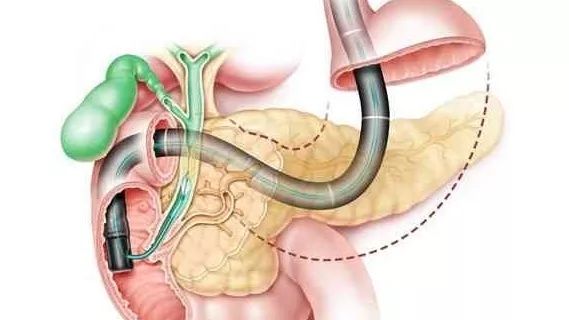 Q1: Mr. Gong, you did surgery two weeks ago and how do you feel now?
Mr. Gong: It's not a big deal. I don't even know when the surgery began and the only thing I remember was that I woke up in the ward after the surgery. The biggest change of mine is that I can eat smoothly. Previously, I hadn't eaten anything since I had cancer. It was a real torture at that time. But now I can eat well and sleep well.
Q2: Mr. Gong, could you please tell us when did you notice something wrong in your body?
Mr. Gong: Seven or eight years ago, I had examination that indicated a polyp in my duodenum. At that time, the doctor told me to quit smoking and drinking alcohol. How can it be! I have been smoking and drinking for so many years. Then at the end of August in this year, I felt sudden pain in my belly after drinking much alcohol. After several days of medication, my pain was still there so I had to go for check-up at the hospital.
Q3: Why did you come to Fuda for treatment? How was your stay here in Fuda?
Mr. Gong: I have 3 sons and 2 daughters. My youngest son took me here. He told me his father-in-law had received treatment for stomach cancer in Fuda. The nurses here were pretty nice and their service was pretty good. When it was examination time, they would help me with wheelchair. They helped sterilize my urine catheter. Every time they came to change dressing for me, they told me in advance, gently changed dressing and carefully observed the healing of my wound. I have never been treated like this before. Actually, the nurses here treated me like their family member.
It is our responsibility to relieve the pain of patients!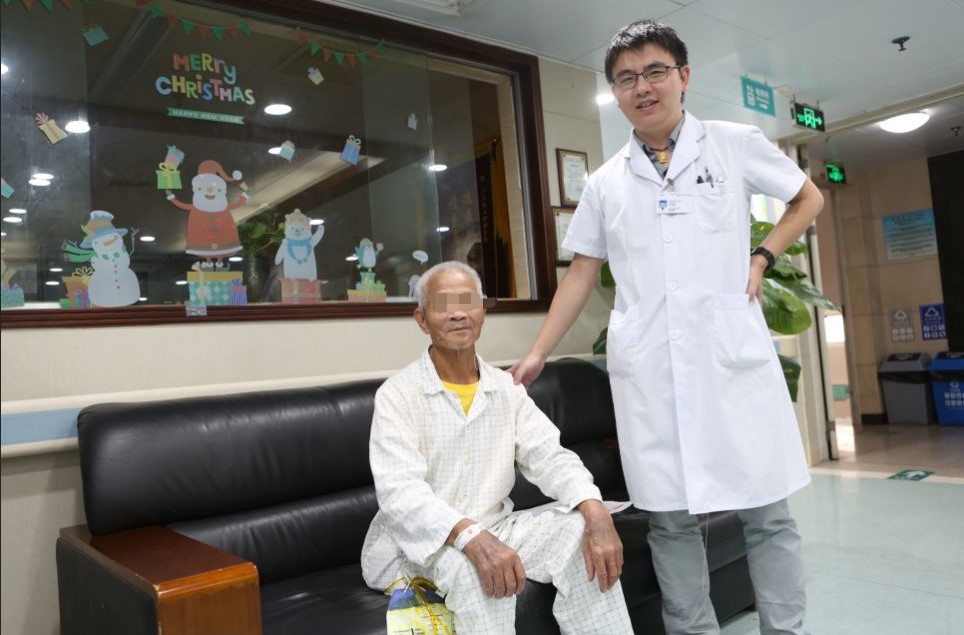 Dr. Jin Qimeng from 5th medical department of Fuda Cancer Hospital (Haizhu Campus)
Q1: Dr. Jin, could you please briefly introduce duodenal ampullary adenocarcinoma to us? What exactly makes the surgery of this cancer so difficult?
Dr. Jin: The duodenal ampullary adenocarcinoma originates from duodenal papilla, the mucosa near the papilla, the mucosa within the ampullary and the mucosa of pancreatic duct and between the duodenal walls of the common bile duct. Most of the patients have no obvious clinical symptoms in an early stage, and when they realize there is something wrong, their cancer has already reached a late stage. The difficulty of radical surgery for duodenal ampullary adenocarcinoma mainly lies in the large scope of surgical resection, complicated intraoperative anastomosis, and postoperative life-threatening complications. After Mr. Gong was admitted to our hospital, we also suggested radical surgery for him. However, his family worried that he could not tolerate the surgery, so they refused our suggestion. Then according to the requirements of his family and Mr. Gong's condition, we figured out a treatment plan and finally completed choledochojejunostomy + gastrojejunostomy + jejunal R-Y anastomosis when patient was under general anesthesia on October 8, 2019 with the joint efforts of Dr. Yang Bo (associate chief physician) and other surgeons in our hospital.
How the conventional surgery is performed

Q2: How do you treat the patients who have similar situation of Mr. Gong?

Dr. Jin: first of all, we need to improve patient's condition for the basis of further treatment. For patients of old age, their family doesn't want to make them suffer so they might try local minimally invasive treatment and chemotherapy. In terms of minimally invasive treatment, we recommend our featured treatment – irreversible electroporation which is also called Nano-knife ablation.
The picture of duodenal ampullary adenocarcinoma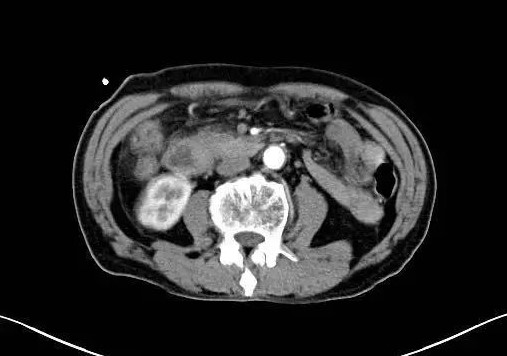 What is Nano-knife ablation?
It is a nonthermal and novel minimally-invasive technology for tumor ablation. It is also known as Irreversible Electroporation (IRE). Its rationale goes like as follows: during the procedure, high electric-field and ultrashort pulses are given to destroy lipid bilayer structure of cancer cell membrane and form numerous irreversible nano-sized pores in the cell membrane. Cell membrane permeability will be changed to allow molecules of different sizes free access to cells, which will lead to cell death.
It has been approved by America FDA for clinical application in April 2012. In June 2015, it has been approved by China for clinical application. Guangzhou Fuda Cancer Hospital become the first in Mainland China to introduce Nano-knife ablation and successfully completed the first procedure. Up till now, Fuda has completed nearly 500 cases of Nano-knife ablation.
Indications:
Nano-knife ablation can be applied to treat tumors in solid organs such as pancreas, liver, lung, kidney and prostate, and is especially suitable for tumors adjacent to pancreas, hepatic hilar region, gallbladder, bile duct and ureters.
Advantages:
l Short ablation duration;
l Thorough ablation with clear dividing line;
l It can be navigated and monitored by ultrasound, CT or MR;
l It will neither generate energy nor be influenced by external temperature (heat island effect);
l Human body will identify cell apoptosis as normal cell death and then clean apoptotic tissue through cytophagy in the ablated area so as to promote the regeneration and repair of normal tissue;
l It can be applied in more complicated conditions when tumor is close to such areas as big vessels, bile duct, pancreatic duct and hepatic portal vein. It can also be adopted in prostatic tumors and near-to-spine tumors.