Question 01: Is there an emergency department in Fuda?
No. FUDA Cancer Hospital does NOT provide any emergency services. The outpatient clinic provides medical service for common disease to people in neighboring community. Service hours of the clinic are from 8:00 AM to 10:00 PM.
Question 02: Why choose Fuda Cancer Hospital?
1)FUDA has treated more international cancer patients than any other hospitals in China.
2)Other than common conventional treatments, FUDA also offers a wide range of cutting-edge therapies that are only available in few countries.
3)FUDA has an international medical team of professionals. All medical staff speaks English, with some doctors and staff speaking Russian, Arabic, Indonesian and Vietnamese.
4)FUDA caters to patients from over 100 countries. You can expect our accommodation as the standard of 5 star hotel. You may choose from single room, suites or suites with kitchen and guest room.
Question 03: What service does Fuda Cancer Hospital provide?
FUDA Cancer Hospital provides a wide range of services to make patients feel at home. If you need or would like something not listed below, Just ask!
- Housemaid Service
- Laundry Service
- Mail & Courier Services
- Fax (Send & Receive)
- Photocopying
- 24 hour security
- High-Speed Internet
- In-hospital Parking
- Travel Arrangements
- Airport pick-up and drop-off
- Translation staff (English, Russian, Arabic, Thai, Indonesian, Vietnamese)
- Cafe
- International Patient Lounge
Question 04: What is the step-by-step procedure for coming to Fuda Cancer Hospital?
Worried about traveling overseas for treatment? Don't be. To date, we have treated thousands of patients from abroad, including many from Western Europe. We have a service team stand by 24 hours to help you with translation, visa, air tickets, transport, accommodation and other requests from you.
Step 1: Learn more about our hospital, our services, and our reputation by going through our website, FAQ, and by downloading our information brochure.
Step 2: Contact us at consultation@fudahospital.com. Please share with us the patient's diagnosis and stage of cancer, medical reports, treatment history and dates, and description of the patient's condition (level of pain, any breathing, walking and eating difficulty). With those information, we can review and promptly provide you with a reply, usually within 24 hours.
Step 3: After receiving your treatment recommendation, you may discuss it with your family.
Step 4: The next step is to provide us with your full names and passport numbers of each person who plans to come to FUDA. Please be sure to note the patient's name. We will provide you with a visa invitation letter for you to process visa. You would have your visa in about 3-4 business days.
Step 5: Once you have your visas, please purchase your tickets to Guangzhou International Airport (airport code: CAN). When you have your confirmed flight information, please email us your itinerary including flight number, arrival date and time, and total number of people arriving. Please bring your previous medical records with you. Upon arrival, FUDA will pick you up at the airport.
Question 05: How much does treatment cost?
It depends. Medical cost needs to be discussed thoroughly with patient and his/her family. It is specific to a patient's condition and needs. By contacting us and providing detailed medical information, you will learn how we can help you.
Question 06: How do I pay for treatment?
While some cancer centers require an upfront payment, we at FUDA realize that paying for treatment is not always quite so easy or quite so fast. At FUDA, we have a pay-as-you-go system. Upon registration, you will be asked to deposit an certain amount. Daily expenses (tests, medicine, etc.) are deducted from this deposit. You will receive a daily invoice as well, so that you can check the expenses incurred on that day. When your account balance runs low, you will be notified to make another deposit. You can pay by cash, bank transfer, or credit card.
Question 07: How long does the treatment last?
Most patients are able to complete their treatment in approximately one month. In some cases, depending on the needs and condition of the patient, treatment requires 5-6 weeks.
Question 08: What is my mailing address at Fuda?
Mailing address:
1. Lily Cai ATTN: (Insert Patient Name) Guangzhou FUDA Cancer Hospial South District (FUDA Cancer Hospital), Room (XXX) 91, 93 Jude Zhong Rd. Chigang, Guangzhou, China 510305
2. Lily Cai ATTN: (Insert Patient Name) Guangzhou FUDA Cancer Hospital North District (FUDA Tianhe Hospital), Room (XXX) No 2, Tangde Xi Rd, Tianhe District, GuangZhou, China, 510665
Question 09: Are there any hotel or supermarket nearby?
Guangzhou is one of the biggest metropolitans in China. There are numerous hotels, many within a short distance of FUDA Cancer Hospital. There is a neighborhood market, a five-minute walk away. Additionally a large supermarket provides a free shuttle from our hospital to the supermarket.
Question 10: What do the hospital rooms look like?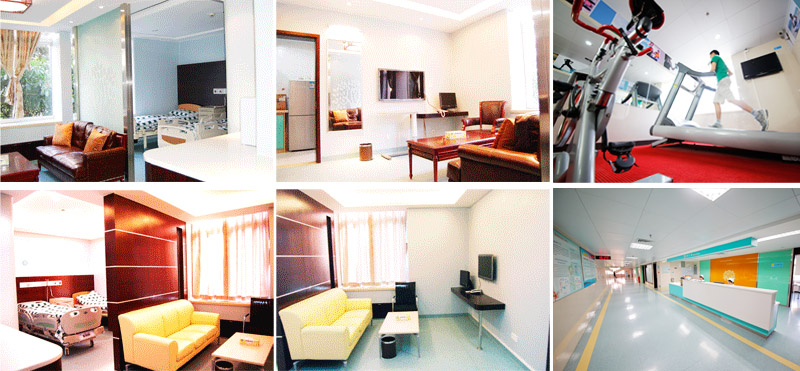 Question 11: Does Fuda offer cancer-screening services?
Yes. Cancer screening is an important way to detect cancer in early stage for high-risk populations. You are considered "high-risk" if you or your family has a proven history of cancer. Cancer screening may not prevent cancer, but the importance of early detection cannot be overstated. Detecting cancer early not only gives you more treatment options, but also greatly increases your chances of full recovery, or at least a positive outcome.
Click here to learn more about our cancer screening services.

Question 12: What can I expect when I arrive at the airport?
We are expecting you at the airport! English-speaking staff will take you to our transport that will take you to hospital within 50 minutes.
Nurses are expecting you at the hospital! They will settle you down in your reserved room and run all the errand for you.
Doctors will meet you in your room once everything is settled.